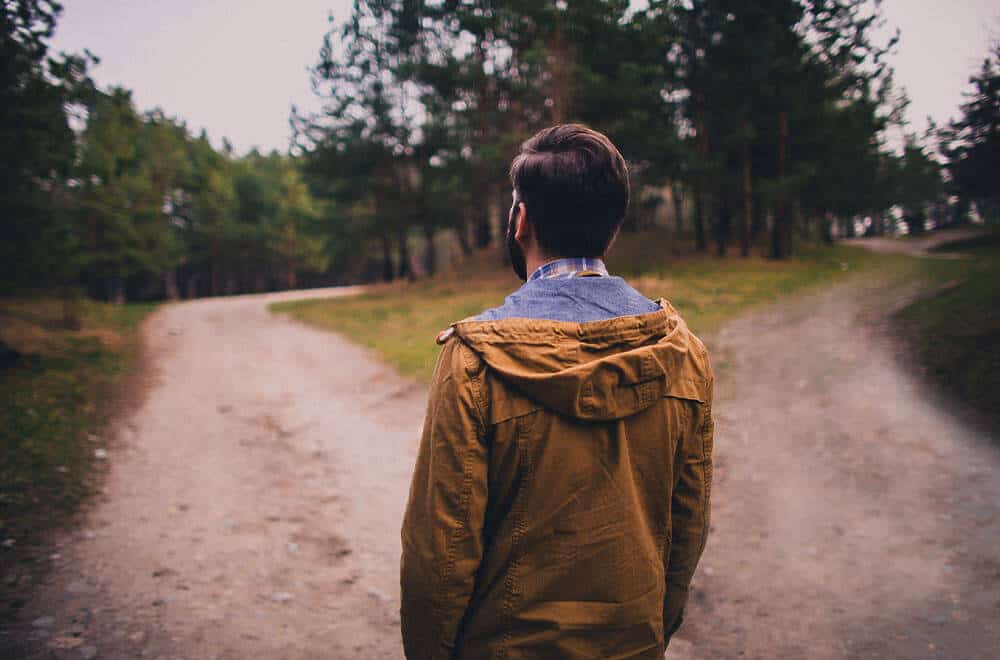 Startup or Established Company? Which Is Best for You?
Reading Time:
8
minutes
Are you confused between going to a startup versus joining an established company? There are multiple things to consider, and a lot depends on where you're coming from, where you are in your career, where you reside, and many other factors. Read this article learn more about startup vs established company-which is better for your career?
In general, let's take an example of a product; when a product is manufactured by a well-known company and on the other side the same product is manufactured by a startup then you will start noticing the differences and the quality of the product. 
In an established company, you will likely have more role models to learn from and experienced teams to collaborate with, a clear vision, and experienced colleagues. The role you consider may have a thin scope but could offer more in-depth learning and, of course, great benefits, compensation, and many more. You'll also get some exposure to what good (or bad) looks like at scale and possibly a superior brand add to your resume.
On the other side, Startups allow you to do all the things and there you will get a lot of exposure- you can open up with multiple works that are good for a long-term career.
You may miss out on having peers to collaborate with, be forced to look outside the startup for mentors or inspiring models, or have a limited budget to get work done in a limited time frame. But you may earn high-value equity in exchange for lower-than-market-level pay. If you want to excavate more into deciding which startup to join, we suggest Jeff Bussgang's book Entering StartUpLand, which goes in-depth on the multiple roles at startups and how to get your foot in the startup.
We will give a clear picture by sharing with you the PROS of startup vs established company
1- Established Company Pros
The Company is Established
When you enter an established company, you're pretty much sure about the company name and how big the brand is in the market. When you work for a company that's been around for more than a year, you know that there will be immense work pressure from seniors and bosses. There is less chance of failure when you're part of an established company. While job security is never a guarantee in a private firm, it's unlikely that you'll walk in one day to find that the firm has folded.
Processes in Place
It is true when you step into a well-established company, everything is well-placed, and the work is systematically allotted to employees. They have a good training session for 2-3 months approximately, depending on the company's rules and regulations.
There will be someone to train you in the business's culture and rules as well as the processes required for your particular job description. 
Better Pay
Everyone knows an established company keeps a good backup when it comes to financial position. With an established large company, you will be paid better than you would at a startup. Established businesses have customers in place with funds coming in to pay their employees. They also provide competitive benefits packages to high performers.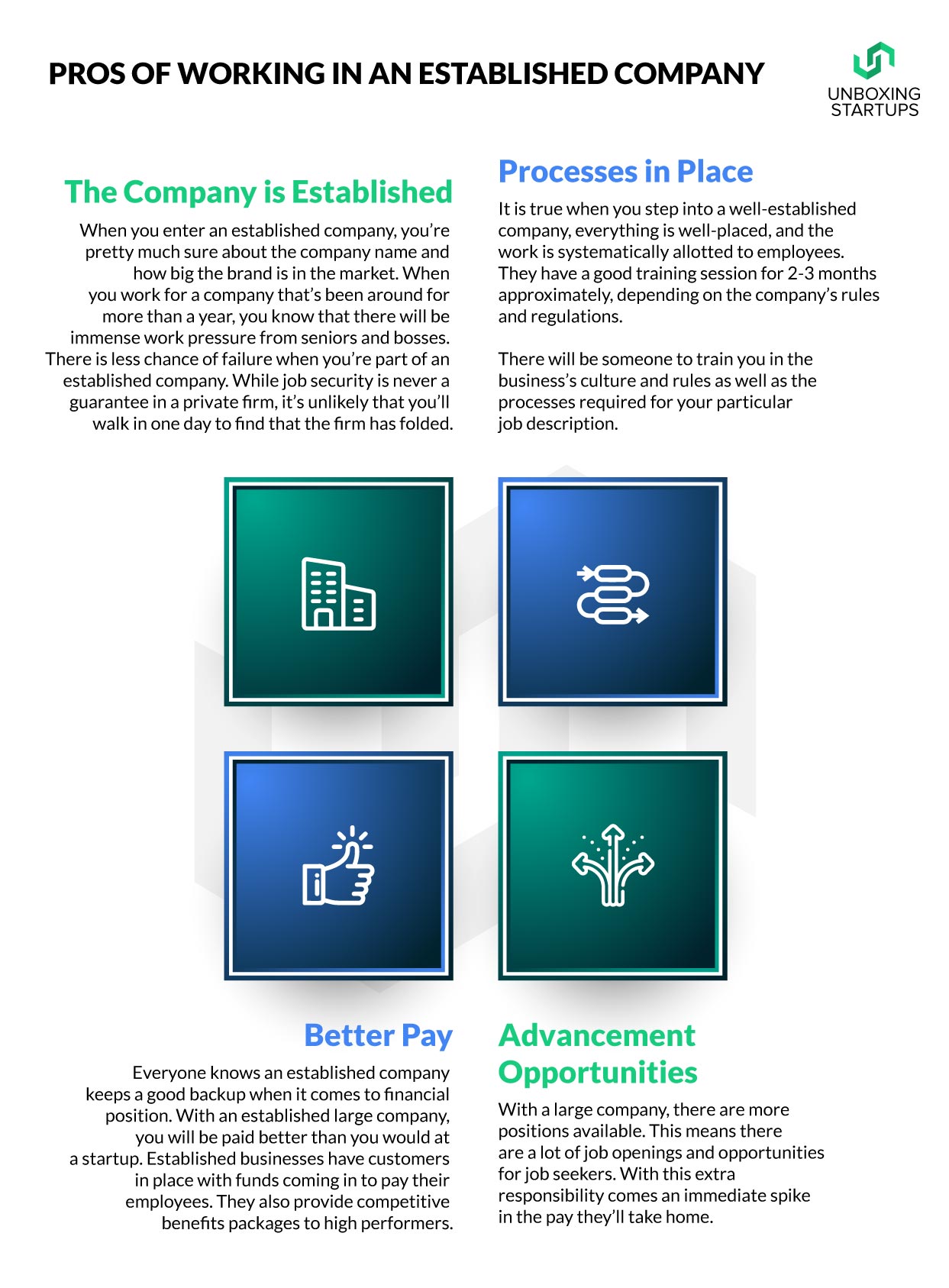 Advancement Opportunities
With a large company, there are more positions available. This means there are a lot of job openings and opportunities for job seekers. With this extra responsibility comes an immediate spike in the pay they'll take home.
2- Pros of Working for a Startup
Matchless Experiences
When you start working for a startup, you experience something different in terms of growth, and you start flourishing in a startup at ease. Employees of a startup will often need to wear many hats in the performance of their jobs. For example, a coder will have to learn quick marketing techniques to help others in the office space.
Room to Grow and Learn
Some startup employees start their job in one position and quickly move to others' roles because of their high working capabilities. One day, they're learning about content writing, and the next, they are working on SEO. There's room to grow and flourish with the startup as it does too. Eventually, a startup could turn into a valuable business that can pay its employees.
Innovation is Valued
When there are fewer employees in the company, your initiative and the innovation you bring to the workplace are valued and appreciated. This is not possible in large companies where the work process is strict and should be followed daily. With no procedures in place, you're able to work as you see fit, which is freeing.
Flexible Work
Startups are run by fresh entrepreneurs who value their employees' contributions and know every employee how much work they should be given or do in a given time. Leaders at a startup allow work from home (sometimes) and allot some leaves if needed. While they often expect more working hours, those hours are incredibly flexible. They understand the lifestyle of the worker and telecommuting if that makes employees more productive. Overall they value their employees, and in return, they get high productivity from employees.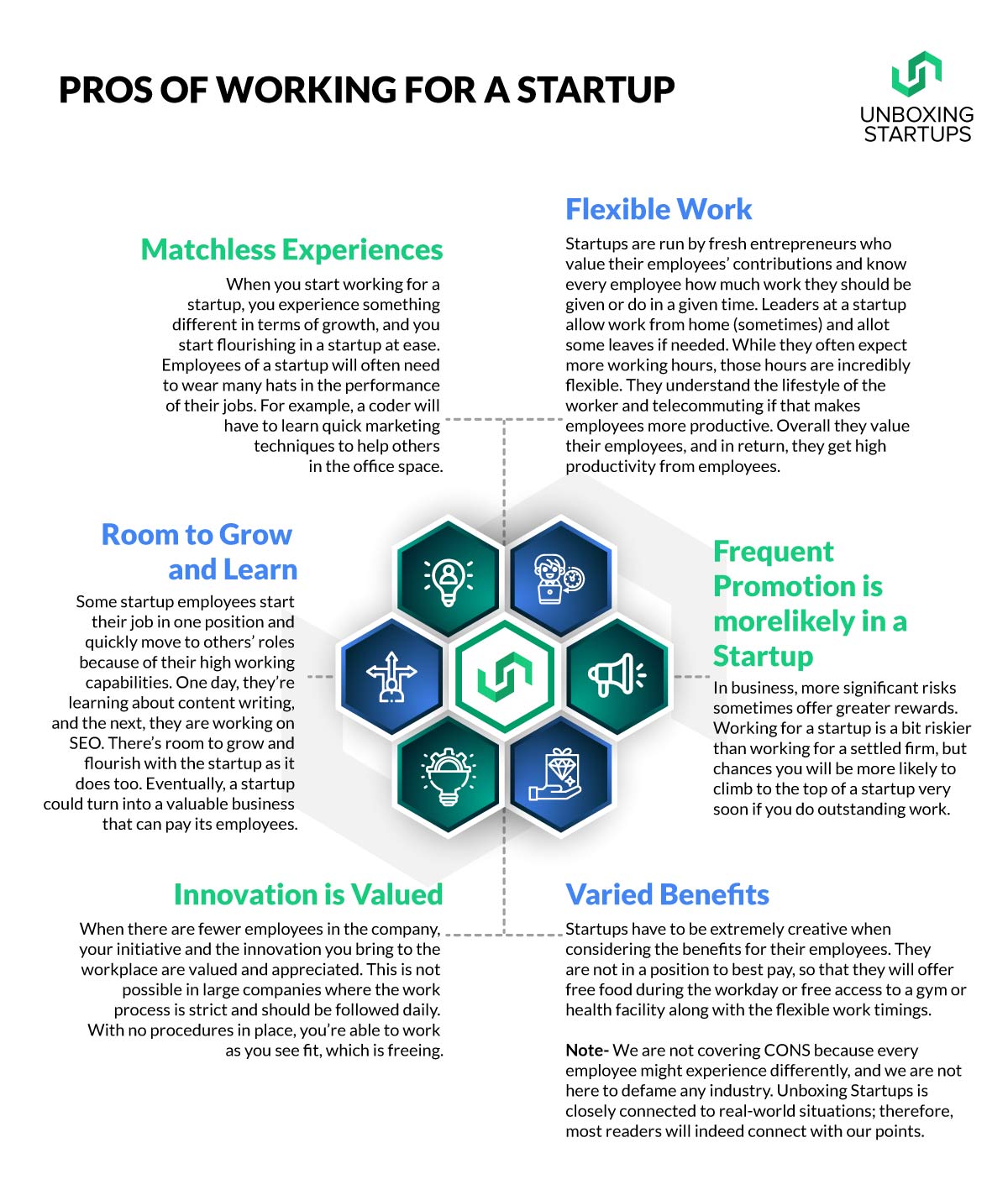 Frequent Promotion is More Likely in a Startup
In business, more significant risks sometimes offer greater rewards. Working for a startup is a bit riskier than working for a settled firm, but chances you will be more likely to climb to the top of a startup very soon if you do outstanding work. 
Varied Benefits
Startups have to be extremely creative when considering the benefits for their employees. They are not in a position to best pay, so that they will offer free food during the workday or free access to a gym or health facility along with the flexible work timings.
Note- We are not covering CONS because every employee might experience differently, and we are not here to defame any industry. Unboxing Startups is closely connected to real-world situations; therefore, most readers will indeed connect with our points.
Until now, we hope everything is clear to you; now we will compare both industries side by side and figure out from very close situations. Excited? Yes, we can understand, so without any delay, let's begin.
1- Startup Versus Established Company: Roles And Responsibilities of An Employee
Despite being hired for a specific position, wearing multiple hats is the bonus, especially when working in the startup world, where roles and duties might change as per the situation. One day you may find yourself working on particular tasks listed on your job description; the next day, you may be assigned to some other responsibilities that you will learn to become familiar with. Yes, this is a startup boss; you have to hold the gun every day; a new day can bring new responsibilities. And overall, you get exposure and many other new things to learn.  
If you like to keep trying out new things and have a craving for curiosity while getting out of your zone, this environment will see you blossom. It is a new experience for a "fast and furious" growth if you are not intimidated by diversified ad-hoc parachute assignments, never-ending lists, and continuous change.
On the other side of the corner, well-established companies have well-settled defined roles and specific responsibilities for each team member. This grants employees a more structured career advancement path where new joiners are set to start their journey by attending training and mentoring programs.
In the beginning, the defined positions will make everything easy to identify the required skills and experience levels an established company needs to receive a promotion. However, in comparison to startups, the pace of career advancement is much slower in larger companies due to their complex structure and competition inside the organization, while acquiring new skills outside of your job description may be challenging. It is essential to mention that larger companies offer a more stable and less fast-paced environment. If you like or want to work in a more systematic and organized setup, you should go for settled organizations.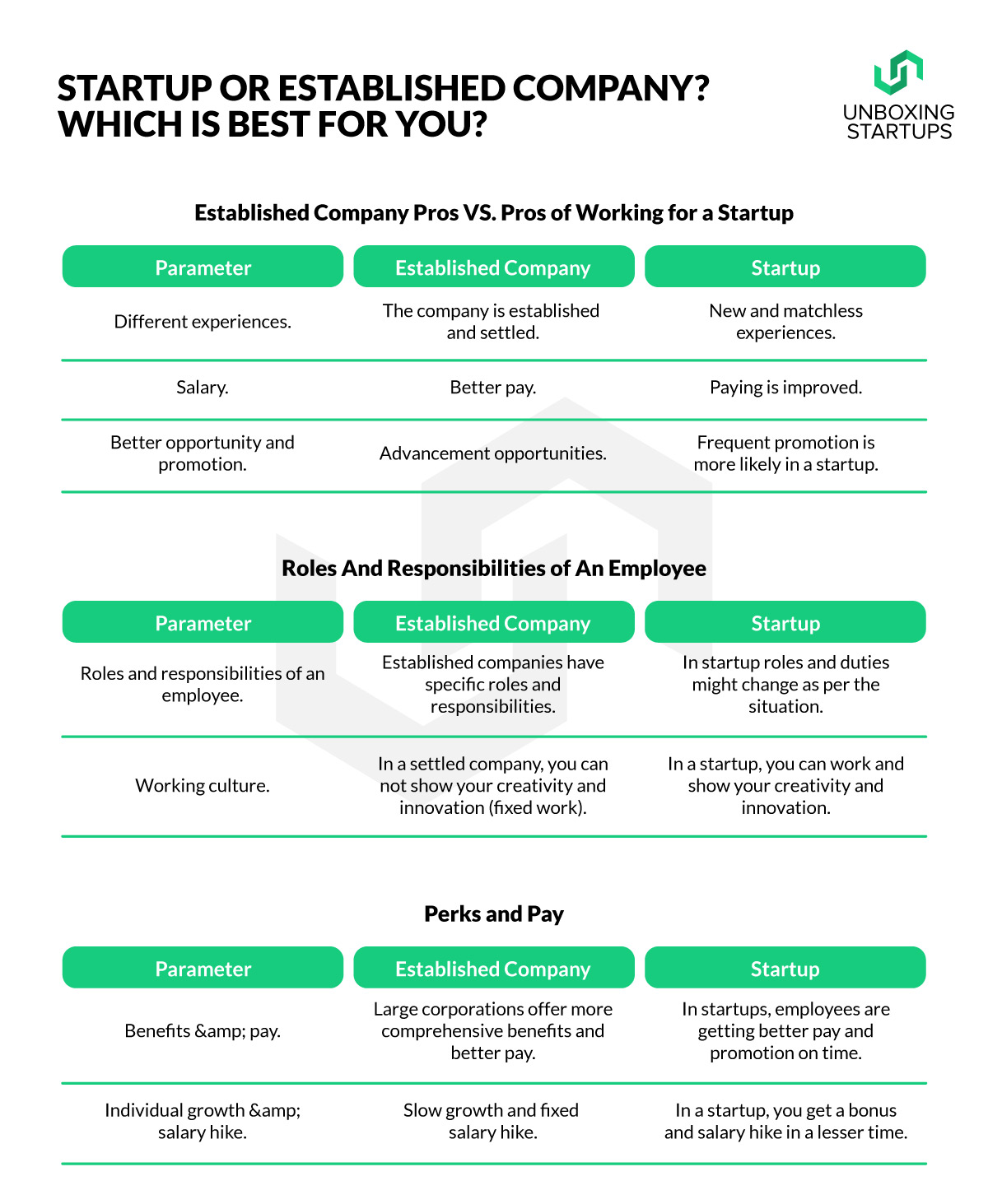 2- Startup Versus Established Company: Involvement And Recognition
When employees are involved in any kind of business, be it in a startup or a larger company, a strong sense of commitment is kindled. Thus, the fruits of such a phenomenon will brilliantly engage in increased work productivity because of the higher achieved levels of employee engagement that can be interpreted as outstanding figures for any company itself. Think of it as a synchronized cycle.
Passionate entrepreneurs driven by problems to discover creative solutions and identify ways to overcome barriers will jump on any opportunity to embrace their team members' innovative ideas, especially if the business is at the initial stage. In other words, employees' contribution to startups is much more noticeable and directly impacts the business's overall success. And your boss can easily figure out your commitment to your work.
With the strong relationships and common culture of most startups, you will soon get the individual recognition in a few weeks if your work is outstanding in the startups. Whereas, in large companies, you will be recognized by the team name or team appreciation. 
Today, most startups are on a mission to innovate some new technologies and other most outstanding products and services. Startups are not existing for-profit; your say will not just have value, but your precious contribution will help shape the path to success of the startup and, consequently, make a difference in so many people's lives. Therefore, you will be pushed to think something innovative and is inspired to take your sense of creativity to a whole next level because of the startup environment's amenable nature.
In well-established corporations, a team effort will influence the success of the business rather than individual effort. Your team leader will get all the credit; there is no doubt you will get recognition, but as a team, not as an individual. 
When it comes to thinking differently, many large companies may not favor due to their structures' arduousness.
It is essential to mention that larger companies offer unique and stable opportunities, such as working with international teams to push you towards developing a global mindset and having access to a more extensive assorted network. As such, you will be able to exchange knowledge with a workforce from different backgrounds and seniority levels.
3- Startup Versus Established Company: Perks And Pay
When we talk about pay, there is no doubt a well-established company will pay you more than a startup, but there is a glitch; we're going to tell you one secret of large companies. When you join a startup, you might get less salary, but very soon, you get a bonus and salary hike in a lesser time, also respect and recognition is a plus. Whereas, in organizations, you might get stuck in the same salary for two years.
Large corporations offer more comprehensive benefits and better pay. It is crucial to mention that while the sound of better pay and financial security can make a position with less flexibility look more appealing for a few, it can sometimes stifle keenness and growth that will surely going to affect your career prospects down the road. 
Working in startups may not be easy, especially in the beginning, or as financially rewarding as in larger companies. Still, it will undoubtedly offer unique opportunities to acquire many skills and faster growth momentum, even if jobseekers with corporate experience acquire the advantage of having big names mentioned on their resumes that they can carry throughout their careers.
Now the time has come to question yourself; we are here to give you the brief information. The overall decision will be yours. And we have faith in you whatever you chose that will be best for you.
Questions You Should Ask Yourself
Whether you're an experienced employee or passed graduate, here are a few questions you should consider before leaping to a startup or settled company:
What skills do you want to add to the set of skills you already have? Will the new position allow you to improve the skills you already have or develop new ones?

What is the most important Money or Experience?

Who makes you most excited to work with them? Are company size and team culture important to you?

Is brand important to you? Or you would like to start your career from scratch?
Conclusion
In conclusion, according to the latest survey by the Future Workplace, approximately 90% of employees said they don't want to continue in the same company for more than three years.
This means change is likely to happen after two-three years (estimation). In the US, after every two years, employees start to search out for a new job.
Whether you choose to join the startup fast track or the corporate track, this first position will be a stepping stone to your future career success. 
Think about the downside. Think about the upside. Compare the two. Make your decision.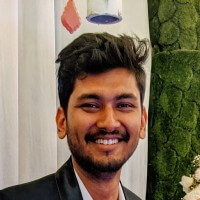 Founder of Cmile. Expert in mobile
 & web 
 development  Passionate about technologies 
 On mission to digitally 
 solve people's 
 problem. Love to use emojis 
Get Updates To Your Inbox
Twitter feed is not available at the moment.