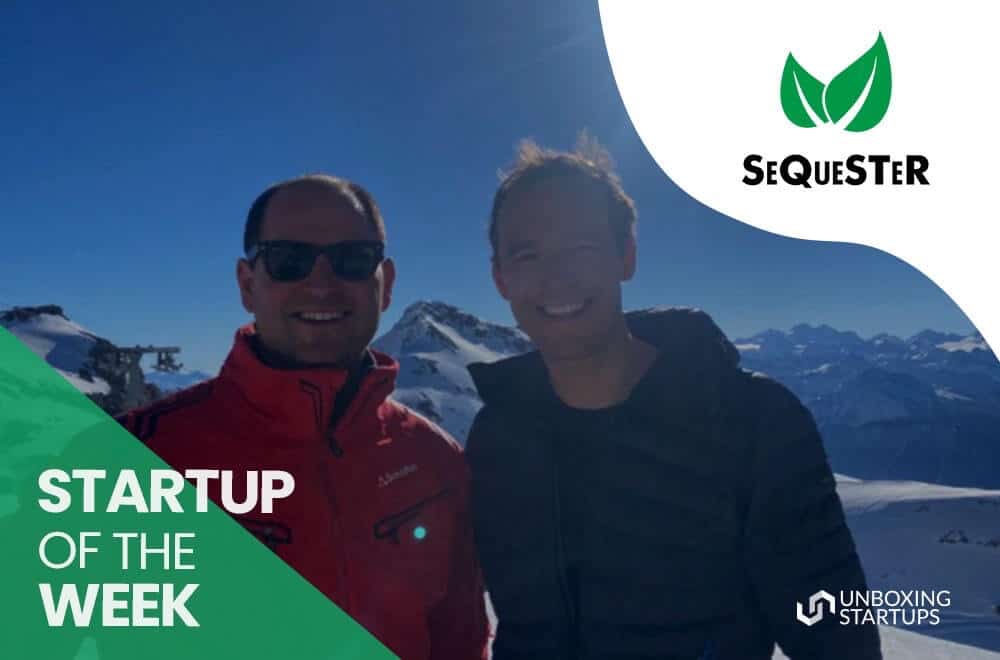 Startup of the Week – Sequester (SQSTR)
Reading Time:
8
minutes
Founded on – April, 16th 2020
Industry – Sustainability & the Environment
Founders – Harry Simpson & George Hughes
MD's: –  Harry Simpson & George Hughes
Startup Motto – Making Carbon offsetting simple for everyone.
Startup Funding – £135k (self-funded)
Startup Market Cap – NA
Team Size – 4
---
Below is the transcript of our interview with Sequester (SQSTR)
Could you please tell us about Sequester to our readers, and what it is all about? 
SQSTR works with individuals and businesses to offset carbon through tree planting and renewable energy. Achieving net-zero is vital for our planet and SQSTR provides a platform to allow people and businesses to easily achieve this.
Our passion and main method of fighting climate change are via UK tree planting due to its tangible and local nature (for the majority of our clients), however, we also supplement this with planting trees internationally and securing carbon credits from carbon positive projects throughout the world.
For businesses, we offer a bespoke service from analyzing their carbon footprint and emissions, providing a solution for the business to reduce their emissions via in-house methods (energy-saving measures and efficiency improvements) and offsetting the remaining carbon by tree planting and carbon offsetting.
Our individual platform offers four subscription levels depending on the perceived carbon footprint of the individual. Tailored to meet different lifestyles and needs, our subscription levels offer everyone a way to offset their lifestyle and positively impact the environment.
How your team works and manage to offset carbon? What are the procedures or steps you follow? And how you implement this in businesses?
Our carbon sequestration projects focus on forestry, peatland restoration, carbon sequestration, renewable energy, and energy storage across the UK, Australia, and Africa. With a focus being on planting trees in the UK, all of our UK plantings are independently verified by the Woodland Carbon Code with our carbon credits are Gold-Standard.
For all businesses, SQSTR offers the following bespoke service –
Comprehensive Carbon Audit of a business: SQSTR analyses the current carbon footprint of your business taking into consideration all aspects and Scopes 1-3 e.g. direct and indirect: energy use, travel, logistics, material usage.
Carbon Reduction measures for a business are recommended to lower the business' absolute carbon footprint.
Offset mechanisms: At this stage, SQSTR seeks to reduce a companies carbon footprint by undertaking carbon sequestration projects on their behalf. Projects include: planting new UK verified woodland; verified UK peatland restoration; allocating areas of existing verified forestry and peatland to your company name.
Carbon Credits: Gold Standard Verified Carbon credits are allocated from international based renewable energy projects depending on the size of offset required
SQSTR Tree partnerships: SQSTR believes that carbon credits are only one element of a carbon sequestration project and as such we are able to offer your company a partnership for the duration of the project lifecycle (e.g. 10-30 years). Under the partnership scheme, a company becomes aligned with the tree planting for the life of the project; the project area remains in a company's name for the duration of the project lifecycle allowing the ability to visit with clients and employees for planting and as the woodland grows.
Management: SQSTR manages and maintains all projects throughout their lifetime, giving regular updates on projects and offering your company the opportunity to participate in planting/restoration days on request.
Following this, the business in question can rest assured that they have taken positive movements towards reducing their carbon footprint and furthering their journey to net-zero.
Could you tell us about your subscription services? What do you offer? And could you please give some reflection on the pricing structure?
Our subscription service primarily services individuals and families, allowing them to fund the planting of UK & internationally based forestry and become carbon positive.
A great explainer video can be found here https://www.sqstr.co.uk/
We offer four levels of subscriptions and these are tailored to meet different people's lifestyles and needs. We believe that all four options will cover UK society and give everyone a range suitable for their needs. 
Bonsai (low carbon footprint)
a. Profile:  – Takes one or two short-haul flights a year; uses public transport where possible; cycles as much as possible, separates their recycling, has limited food waste, and has a green energy supply for their home.
b. Cost – £6/month
c. Every month we –
i. Plant 8 trees
ii. Offset 1 tCO2e
 Oak (average carbon footprint)
a. Profile – Takes a handful of short-haul and maybe a long-haul flight or two a year; drives a car to the supermarket; walks occasionally, recycle when possible, sometimes leaves the lights on when leaving the house.                                                                                                                          b. Cost – £12/month
c. Every month we –
i. Plant 16 trees
ii. Offset 2 tCO2e
 Redwood (high carbon footprint)
a. Profile – Travels by plane frequently; uses the car to pop to the shop to buy some milk/the paper/a coconut; rarely walks instead of driving; invariably misses the recycling collection (but, not for want of trying).
b. Cost – £18/month
c. Every month we – 
i. Plant 25 trees
ii. Offset 4 tCO2e
Family (average carbon footprint)
a. Profile – This package is based on a busy family (two adults and two children) with an average 'Oak' carbon usage. If you have a larger family, simply add another individual subscription before checkout.             
b. Cost – £30/month
c. Every month we –
i. Plant 50 trees
ii. Offset 6 tCO2e
What is the difference between Offsetting and reducing carbon dioxide production? Also, could you tell us about 'Zero Influence' what it is all about?
Offsetting is a means of reducing your carbon footprint by buying carbon credits from globally recognized and validated projects. Whilst offsetting allows people to take action, it doesn't necessarily mean they are changing their day-to-day operations and lifestyle.
Reducing carbon emissions and carbon dioxide actively cuts carbon production and or removes it from the environment and atmosphere. We believe it is very important for everyone to try and reduce their carbon production where they can and so we provide plenty of tips and advice in our newsletters and podcasts.
Whilst offsetting is extremely important and something we offer, we primarily focus on providing people with a tree planting service. Planting trees sequester carbon from the atmosphere and ensures the carbon is locked up within the trees for the rest of their life. Planting trees offers people a local and tangible option where they can see positive change.
Zero Influence is our (in conjunction with influencer marketing agency Sociably.co) new social media climate charter, it is free to join and offers social media influencers the chance to stand up and tell everyone they are thinking about the environment. Influencers can lead quite carbon-heavy lives and we believe they have the opportunity to have a positive impact on not only the environment but also their followers. Everyone should be conscious of their carbon footprint and we believe it is the first step to reducing your impact on the environment. More details can be seen here: www.sqstr.co.uk/zeroinfluence.
What are the challenges you faced during the initial days? How did you push through? And how the whole concept came to your mind for the very first time?
The main challenge for any company, no matter their age, is attracting customers as without them we don't have a business. During the early days, it is important to be persistent and resilient due to the time it takes to build a successful base.
We initially focused on carbon offsetting SME's however whilst all SME's we spoke with appreciated the importance of the environment and sustainability only a few went ahead with our proposals. Whilst there will be mid to long-term financial & social benefits for the company, there is no regulation forcing them to take action. Therefore some companies opted not to take action now due to the perceived increased workload and costs of adopting these methods.
As a result, we continued to work with SME's but pivoted towards larger companies who have to disclose their carbon footprint. This regulation forces UK-based companies to take action in understanding what their emissions are. Whilst they have to disclose their emissions, they aren't forced by the regulation to act, something we believe the government should change and is something we support.
In addition, we also pivoted towards an individual subscription-based service as we found that it is individuals who are most supportive of change and taking direct action. As a result, we discovered that there is a large customer base of individuals looking for ways to offset their carbon and improve the environment in a simple cost-effective way.
Pivoting has been essential to us and believes further pivots will be required further down the line and this will be determined by the global consensus on the climate and government policy.
SQSTR was born out of a renewable energy company we founded in 2010. Whilst we provided and developed renewable energy plants throughout the UK and Australia, we wanted to do more to reduce our own companies carbon footprint and thus decided we would offer it as a service to others and not just ourselves.  The main focus was making it as easy as possible to make a positive impact, when we were trying to offset our travel we found it complicated and weren't really sure where our money was going, with SQSTR we aim to change this.
What is Woodland Carbon Code planted forestry? And what they do?
The Woodland Carbon Code (WCC) is the quality assurance standard for woodland creation projects in the UK and generates independently verified carbon units. Backed by the Government, the forest industry, and carbon market experts, the Code is unique in providing woodland carbon units right here in the UK. The Woodland Carbon Code is internationally recognised for high standards of sustainable forest management and carbon management and is endorsed by ICROA, the global umbrella body for carbon reduction and offset providers in the voluntary market.
Please check: https://woodlandcarboncode.org.uk/about/the-basics for further information.
What is your vision and mission behind this company? And where you want to reach? Any future plans?
We strive to bring about positive change for the climate. Climate change is real and we want to help as many businesses and people move towards our goal of net-zero and to provide them with a cost-effective, trustworthy, and simple platform to achieve this. Whilst we want to grow our numbers as fast as possible, we appreciate that we are achieving our goal with every single subscription or business contract.
Ultimately, we believe our platform will and can be used by all large companies and our aim is for large companies where have a large customer base, such as Go Compare and or Amazon, will host our service on their website.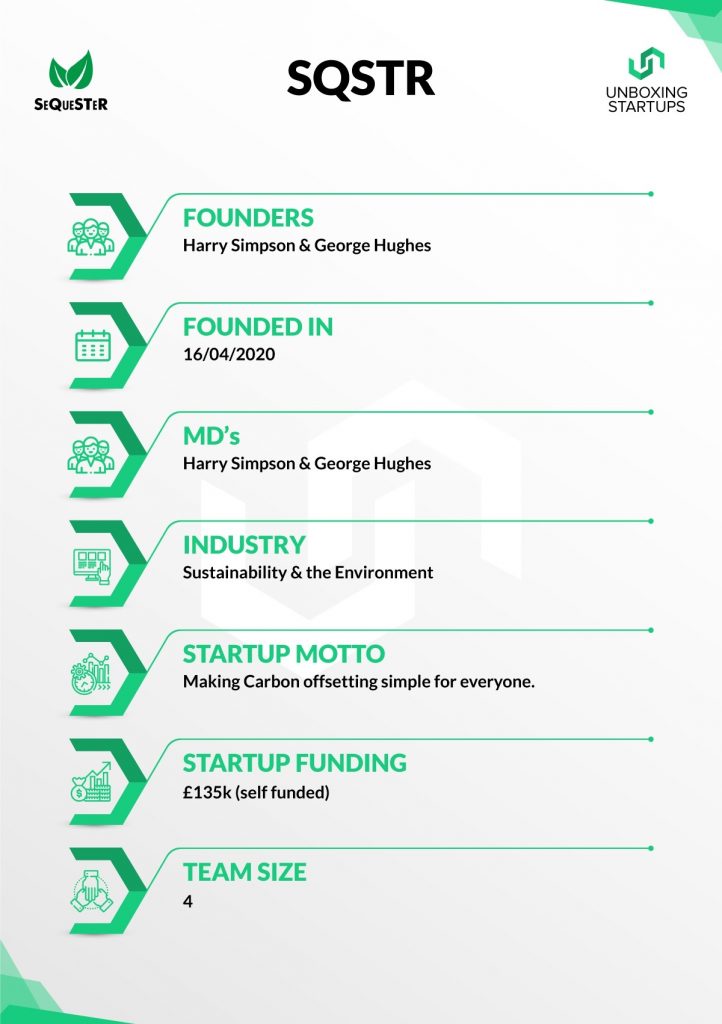 What have you failed at? And how you recover from that phase? Because being an entrepreneur is not easy, it's like walking on the stone each day. What boosts your mind when you face failure?
Many things, although I don't believe we fail, instead it is simply what we try isn't quite right and needs to be developed accordingly. Whether these are renewable energy projects we have started developing but not get over the finish line, they are all form part of our learning curve.
We thought SME's were going to be a prime target for SQSTR, however, we accepted we weren't quite on the money and therefore pivoted accordingly, COVID probably played a big part in this and so we certainly realize timing is as important as any other factor in success.
Learning from mistakes is essential and being resilient to these so they do not affect you more than necessary. Accepting that your first idea, or ones after that, may not be quite right is key and that you have to develop along with your findings.
In which countries you're currently serving? Any further expansion plans?
SQSTR is a UK company however it is a service for everyone throughout the world we currently have projects in Africa and Australia and are always seeking to expand our reach, at the moment we are planning projects in Mexico and the Netherlands.
Any secret formula to young entrepreneurs?
We don't think there is a secret to success some companies explode seemingly overnight but the vast majority take time and effort to become truly successful. For anyone setting out on their business career, we suggest hard work, resilience, and learning how to 'fail fast' is very important, if something isn't working it is much better to stop spending money on it and try and find something that works better than to continue with blinkers on.
Could you describe yourself in one word?
Resilient.
Before we conclude the interview, anything you want to say to Unboxing Startups team?
Thank you for contacting us, we love your work and have enjoyed the interview process. As a thank you, here is a discount code [UNBOXING100] for you and your readers for 100% off their first month's subscription at SQSTR.co.uk. Keep up the good work.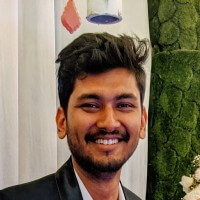 Founder of Cmile. Expert in mobile
 & web 
 development  Passionate about technologies 
 On mission to digitally 
 solve people's 
 problem. Love to use emojis 
Get Updates To Your Inbox
Twitter feed is not available at the moment.