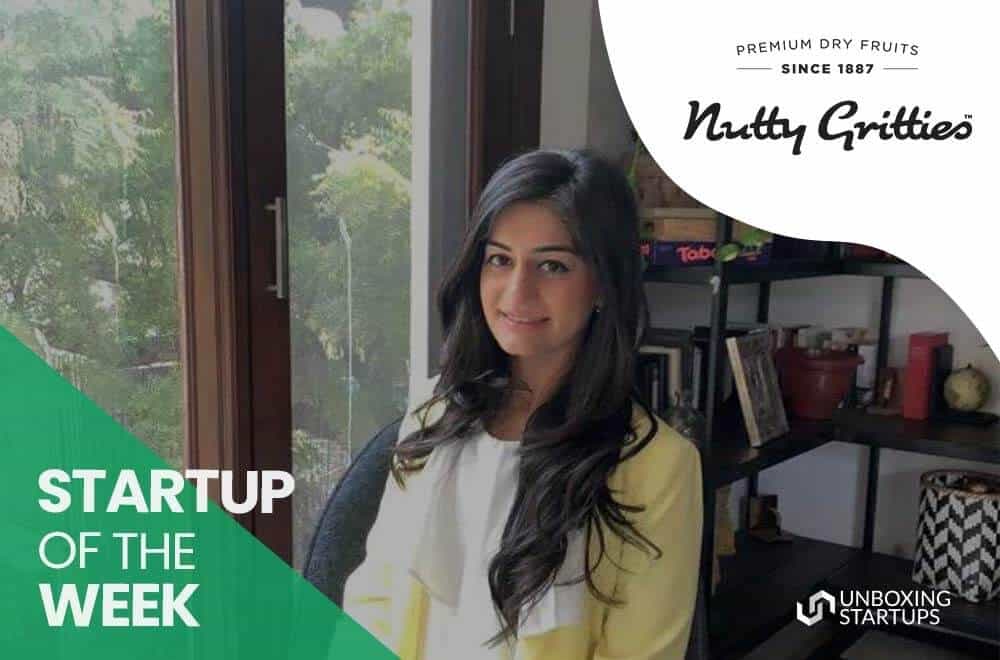 Startup of the Week – Nutty Gritties
Reading Time:
5
minutes
Founded in –  2009
Industry – Healthy Snacking
Founder – Dinika Bhatia
CEO –  Dinika Bhatia
Startup Motto – To promote better health and spread love and joy globally.
Startup Funding – $67,180 (USD)
Startup Market Cap – N/A
Team Size –  50
Below is the transcript of our interview with Nutty Gritties 
Could you please tell our readers and entrepreneurs about Nutty Gritties, and what it is all about? 
Nutty Gritties is a category creator and leader in trail mixes and flavored nuts in India. Along with our strong online presence, we are also available in over 2000 touch-points offline, including retail, modern trade, vending machines, corporates, railways, and airlines. The main expectation from this position is to amplify the digital presence.
Nutty Gritties stands for Spreading Joy, not only through our yummy & healthy products, but also through empowerment. We contribute 1 percent of our revenue towards a holistic educational experience and vocational training programme for street children and women at Spread A Smile India, empowering and enabling them to create a brighter future for themselves.
Our vast variety of Nuts & Trail Mixes are made with zero preservatives and zero oil, making the Nutty Grittiers feel good while they munch. We believe in transparency, clean eating & clean habits. We support & promote 'GRIT', acts of courage enabling our team & our community to believe in themselves, providing ample opportunities of growth at every level in our inclusive and fun culture.
I am the 6th generation entrepreneur in a family trading nuts & dry fruits since 1887. Nutty Gritties was the award winning business plan in the Entrepreneurship program at the University of Southern California. Courageous to enter a male dominated industry, to build a brand out of a commodity, I have never been afraid of breaking glass ceilings, and I aspire to be a role model for women in India.
We're on a mission to promote better health and spread love and joy globally!
What are the products you offer? And how is it different from your competitors?
We have wide range of products:-
Healthy Basics  
Raw & lightly salted dry fruits- Almonds, Cashews, Walnuts, Raisins, Pistachios,  Dry Fruits Blend, Sports Mix,, Kalmi Dates, Dried Cranberries, Mix Berries  and much more.
Healthy Exotics  
Exotic flavors roasted without a single drop of oil.
Healthy Exotic Snacking  
Single-serve, one-time packs ideal for snacking at any times.
Limited Edition  
Our unique flavors, for the love of creativity and innovation.
We only serve Jumbo sizes ,Fresh, Crunchy and Roasted without a single drop of oil!
Who provides you raw materials, we mean who supplies nuts and dry fruits? How do you measure the quality of the dry fruits?
We source premium quality dry fruit from across the globe and efficiently sort, grade, roast, flavor and package them before they reach our customers.
Every product once received at the plant passes through the various quality checks.
How do you get an idea of launching healthy snacking? 
As a family that has been in the nuts & dry fruit trade since 1887, I grew up constantly surrounded by conversations around dry fruits and nuts. At age 13, I knew this is what I was destined to do. I moved to California to attend college and spent my summers visiting the almond orchards and processing units to enhance my knowledge of the trade. California accounts for over 80% of the world's almond production and I couldn't have been better placed to learn.
Fast forward to my final year of college, I wrote a business plan that not only cemented my degree but also served as the blueprint for Nutty Gritties. In the US, nuts were such a versatile and healthy snack and I always wondered why back in India, we only stuck to eating nuts around winter, Diwali and weddings. I moved back to India in June 2009, we incorporated in August and launched Nutty Gritties in September. Hustle sums up my first year. From setting up our factory in Okhla to educating the Indian market on the snacking on nuts to securing Walmart and Barista as customers, and exploring distribution across India; it was like any new venture- filled with excitement, uncertainty and lots of promise. 
It was a great learning for me when at the age of 22, I would walk into all corporate offices of retail chains in India and confidently sell my brand. Buying into my belief, large retailers gave me an opportunity to sell my brand in their stores.
At the end of year 1, I was convinced about growing this business further, when we decided to convert our shed into a building to expand more space for manufacturing. 
Do you manufacture the products? Or any third-party company manufacture for you?
 Yes, we manufacture the products ourselves.
Where your products are available, on which platform one can buy the Nutty Gritties products?
We have a good market presence ,our products can be found in the following platforms:-
Online –Amazon, Flipkart, Grofers, Big Basket ,1mg etc.
Offline- All Modern trade stores like Food Hall, Nature's Basket, Metro, Spencers etc.
General Trade- Sodhi, Garg Dastak, Nathu's, Yess Store, Raj mandir etc.
Could you please tell us about the Limited Edition range? Our readers are excited to know those products as well.
Our Limited Edition products are-
Wasabi Fusion Cashew  Nuts 

Coconut Almonds  

Honey Sesame Almonds  

Vanilla Cinnamon Almonds 

Coffee Almonds 

Saffron Cashew Nuts 

Rose Almonds  

Dark Chocolate Almonds

Berri Boost
What are the challenges you faced during the initial days? And how did you push through?
A lot of our raw material is still imported and therefore we face constant price volatility. Over the years, owing to our purchasing power, we have been able to hedge that and pass on the benefit to the customer. Another battle we are constantly faced with is changing the commodity mindset associated with dry fruits therefore competing with brands where the differentiator is just price has been difficult.
We were ahead of our time with some of our products like our Barbeque Almonds or our Thai Chili blend which today are our best selling items but 7-8 years ago, the story was very different. I think a big challenge is making dry fruits and nuts more accessible to the common man. We want to build an approachable and inclusive brand and we are constantly learning to get better at that.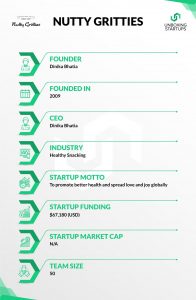 What is your vision and mission behind this company? And where do you want to reach? Any future plans?
We're focused on building a 100 Cr brand in the next few years by expanding our footprint to emerging corners of India. We are passionate about innovating different ways that India can consume more nuts!
Distribution and variety is our core focus. 
What have you failed at? And how do you recover from that phase? Because being an entrepreneur is not easy, it's like walking on the stone each day. What boosts your mind when you face failure?
Thomas Edison said "I have not failed. I've just found 10,000 ways that won't work." And I found many ways that won't work in retail. I consider this phase as the best stepping stone to success. Recovery is actually really easy, because I just focus on the lessons learnt, and the positives that came out of that situation. And trust me, there's more to learn from a failure than a success, you just have to welcome it! The value of life is measured by how much you evolve through it. And evolution is an outcome of a series of looking at things differently.
It's also all about giving your best in that very moment. And even all the retailers/distributors we were unable to crack remember us for our passion, transparency and quality.
In which cities you're currently serving? Any further expansion plans?
We have a major presence at Delhi/NCR ,Bangalore & Mumbai. We are planning to go global in the near future.
Any secret formula to young entrepreneurs?
Clarity leads to Reality. Do whatever it takes to bring clarity to yourself, and you'll know you're clear when thinking about it makes you feel good!
Could you describe yourself in one word?
Visionary.
Before we conclude the interview, anything you want to say to the Unboxing Startups team?
The Unboxing Startups team is doing a great job by covering new-age entrepreneurs. Their interviews will serve to be an inspiration for budding entrepreneurs.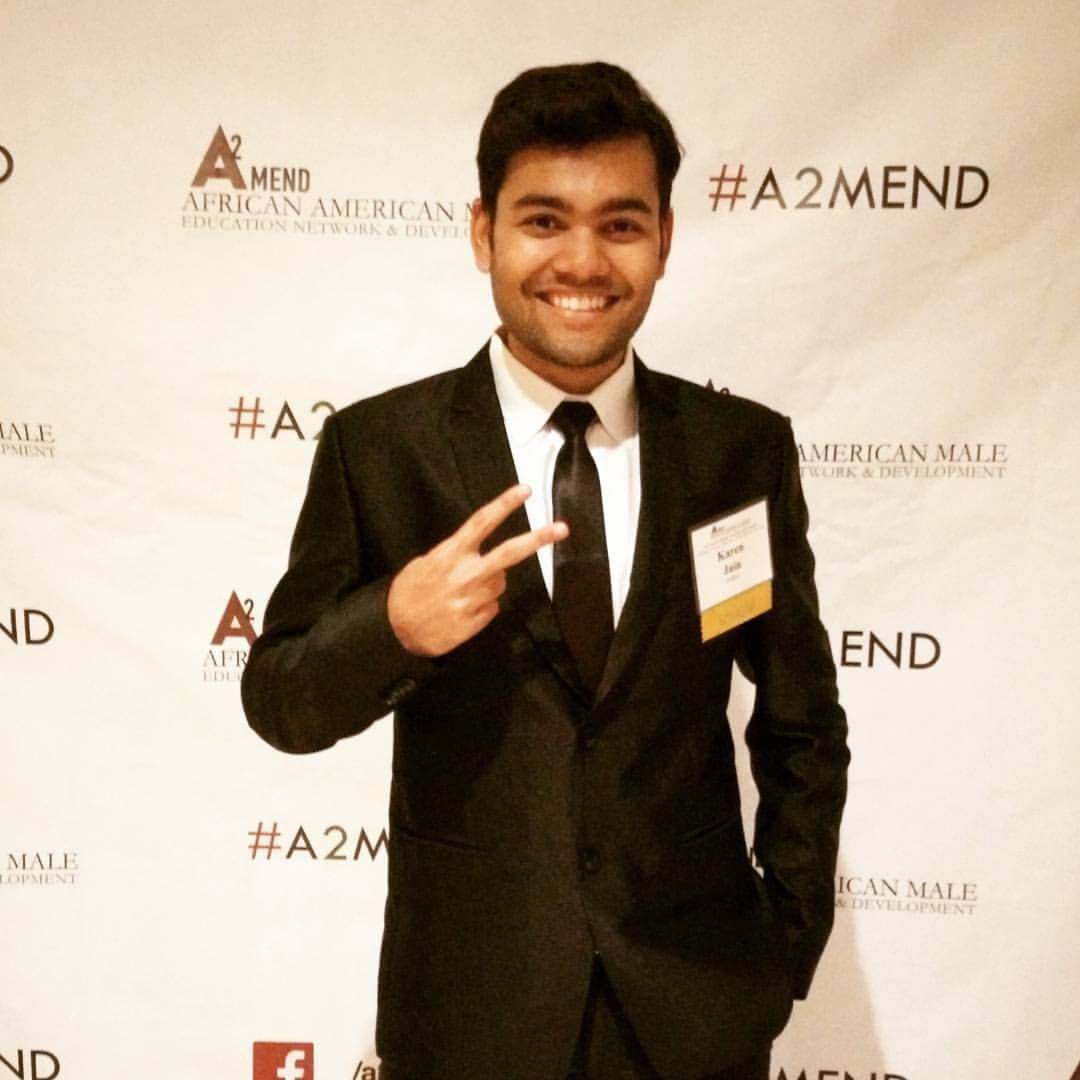 Born in the family of entrepreneurs and have inherited the same. Started building applications in order to pay for my tuition. Later founded a tech company, marketing agency, and media outlets.
Get Updates To Your Inbox
Twitter feed is not available at the moment.