Startup Of The Week – Martman
Reading Time:
4
minutes
Founded on – 1st March 2020
Industry – E-Commerce
Founder – Atul Kumar & Somesh Sharma
CEO – Atul Kumar
Startup Motto – Take online shopping to the next level.
Startup Funding –  $6867 USD (5 Lakhs INR)
Team Size – 30
---
Below is the transcript of our interview with Martman
Could you please tell us about Martman to our readers, what it is all about? 
Martman is a superfast online delivery and shopping App. Which delivers products within 60 minutes, our service functions 24×7, Martman contains 18 categories and delivers almost everything.
How it is different from your competitors, and what makes you unique?
Every fresh company takes time to grow and build a business in the market, and due to the Covid-19 outbreak, we could not promote our brand widely in our city. But we managed to accomplish more than our target and we clocked a turnover of 16 Lakhs in lockdown. Being a fresher it seemed like it's hardly possible, but we made it possible.
Our App contains 18 Categories and our services function 24×7, we deliver products within 60 minutes. The services which we provide to our customers are completely different from others, that's what makes us unique and different in the market.
What items does Martman deliver? And what is the estimated time of delivery?
Martman delivers products of each and every category. Martman deals in 18 categories, which are Groceries, Food and Restaurant, Pan Shop, Cosmetics, Clothing and Accessories, Flower and Gift Shop, Pet Items, Health and Wellness, Medicines, Novels and Stationary, Electronics and Hardware, Sports Shop, Home Decor and Essentials, Baby Care Products, Fruits and Vegetables, Computer Mobile and Accessories, Meat Fish and Eggs, Printed and Customized Products.
Our motto is to deliver products within 60 minutes.
We also have 4 different delivery slots for our customers, if the customer isn't comfortable picking the product within 60 minutes, not to worry we also provide them other options to choose from, Such as Afternoon delivery, Evening Delivery, Next Day Delivery, and Delivery Within 60 Minutes.
If a first-time user wants to order some product then does he/she need to go to your website or you have an app? If yes, then is it available on Play and App Store?
Yes, Martman App Is available on Playstore as well as App Store. A first-time user/customer can order easily and smoothly by using our App or Website, without any complications.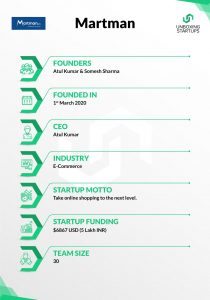 What are the challenges you faced during the initial days? And how did you push through?
Our biggest challenge was 'Lockdown.'
As we were new to the market, Peoples didn't know what Martman is and it was a hard task to build that trust between the customer and Martman.
Because every business knows that trust is the most expensive thing in the world.
We started delivering products offline too, due to more orders, our server used to lag, but we used to take offline orders through calls and deliver them to the customer within 60 minutes in lockdown too.
What is your vision and mission behind this company? And where you want to reach? Any future plans?
Our major mission is to support Women's Empowerment.
Women feel unsafe to go out late at night, but they don't have to fear or worry about it anymore as Martman is working 24×7, and mainly medical and menstruation products for women would be delivered without any extra charges or delivery charges after midnight. 
Our vision is to be a versatile company that supports everything and provides services worldwide.
What have you failed at? And how you recover from that phase? Because being an entrepreneur is not easy, it's like walking on the stone each day. What boosts your mind when you face failure?
We failed to execute perfection at the beginning, and due to the COVID-19 pandemic, we had to reduce our team which was a bad decision.
With a small team, it was getting hard for us to survive in the market, we knew Excuses Don't Build Empires. We started to make small changes with small strategies,
Small changes eventually add up to big results.
In which cities you're currently serving? Any further expansion plans?
Martman is currently serving in 2 cities, which are Kanpur and Agra (Uttar Pradesh) India.
Our perspective is to spread our business In each and every part of India, in the first place, we want to facilitate our service to all the cities in Uttar Pradesh and then focus to advance to other states and other cities of India.
Any secret formula to young entrepreneurs?
Making the right decisions at right time is the secret of success, To make the right decisions you must be Experienced, And to gain experience you must go through failures.
A message to all the young entrepreneurs, just love your dreams and learn to take risks.
Remember, we can do anything, if we set our mind towards It.
Could you describe yourself in one word?
SuperHero.
Before we conclude the interview, anything you want to say to the Unboxing Startups team?
We are really glad and appreciate your approach towards us, in point of fact, your page is incredibly inspiring, and the way you motivate peoples is truly unique.
Our youth is the hope of our future, and we just want to tell you that keep inspiring them, keep motivating them, your hard work will surely shine bright, all the best.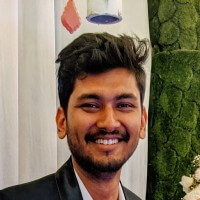 Founder of Cmile. Expert in mobile
 & web 
 development  Passionate about technologies 
 On mission to digitally 
 solve people's 
 problem. Love to use emojis 
Get Updates To Your Inbox
Twitter feed is not available at the moment.