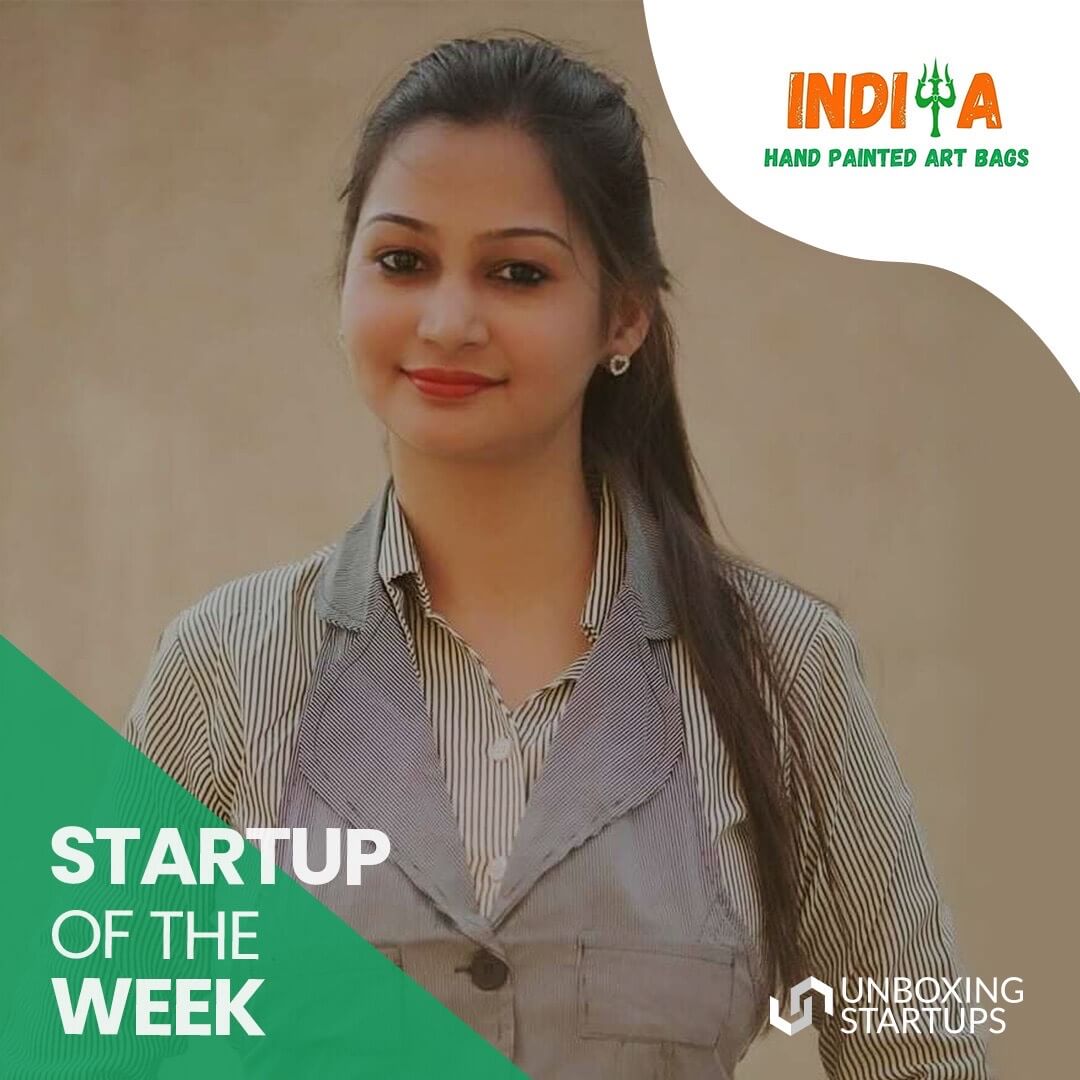 Startup Of The Week – Indiya
Reading Time:
4
minutes
Name of the Startup – Indiya
Founded in – 2020.
Industry – Bags.
Founder & CEO – Shweta Saxena.
Startup Motto – To exhibit the rich & ancient Indian visual Art forms worldwide!
Startup Funding – Self-funded.
Startup Market Cap – 3 Lacs.
Team Size – 1 Manufacturer who has 2 Women Karigars for exclusively making our handbags (bags designed by us) & 2 Freelancer Women Artists as per the pre-bookings of art bag.
Below is the transcript of our interview with Indiya
Could you please tell us about Indiya?
Indiya is a purpose-led brand which is exclusively into the hand-painted Indian designs Art bags of genuine leather proudly made in India by the Women Karigars & the Women Artists from the underprivileged backgrounds sincerely dedicated to showcase the rich & ancient visual art of India on the global platforms!
How do you come up with the idea of selling hand-painted art bags?
After an extensive research, I realized that the best way to display our beautiful & variety of art forms like Madhubani, Mughal art, Warli, Kalighat art etc was to convert the frontal surface of a bag into an expressive Canvas which would go places across the world narrating the tales of my country of which I am personally immensely proud of!
Also, after spending several years of my life abroad, I had witnessed how deeply our Indian art is loved and appreciated worldwide. Hence, Indiya was born.
What are your challenges during the initial days you faced? And how did you push through?
The biggest challenge was that the conceptualization and launch of Indiya happened during the peak stage of Covid-19. Hence, every step, every decision, every plan to move forward and in short to edifice the whole concept was a challenge. In addition, everything came with a delayed date ie finding the suitable hand-painting-friendly raw material to the manufacturing to getting the completed art bags from the Artists. But, the determination to not give up kept me moving.
I have always lived with a strong belief that 'There is a little bit of me in every She'! Hence, I was very sure that I would have an all-Women (under-privileged only in order to support them with the employment opportunity) team or have no team at all. This was yet another huge challenge for me from finding the Women Karigars to Women Artists who excelled into that specific skill/art form etc to convincing them to walk along with me on this new path as these Women come from the under-privileged families and have work restrictions like they are allowed to be the maids for house-cleaning, vessels washing etc but not as an independent Artist even if they are too good at it and had good scope of earning better. I could sense a lot of Gender-equality issue in this because I also came across many insecure husbands who were reluctant and opposing their wives only out of the fear that 'she' would earn more than him and thereby he would lose control over her/her overall life. I kept my search on and thankfully found 2 good Women Artists out of which one is a young Artist from Jaisalmer, Rajasthan (currently moved to Pune for this work opportunity) and the 2nd one hasn't yet shared in her family out of the fear of losing this extra income in order to pay her Daughter's regular school fees. As per her request, her identity hasn't been disclosed.
Could you tell about Underprivileged women artist and women karigars?
I currently have 2 good Women Artists out of which one is a young Artist from Jaisalmer, Rajasthan (currently moved to Pune for this work opportunity) and the 2nd one hasn't yet shared in her family out of the fear of losing this extra income in order to pay her Daughter's regular school fees. As per her request, her identity hasn't been disclosed. Both Artists are excellent in their respective artwork and have a sincere urge to become financially independent. Also, they are very comfortable in our small Women-only team as they feel safe to share their emotional experiences at other work & of personal life as well upon which we collectively brainstorm of various ways to help them to resolve their issues. 
About my 2 Women Karigars based in Kolkatta, they come from a very poor family where caste system is still being practised which surely has a strong impact on their freedom of commuting to the city and working out of the village. They also fight gender-discrimination issues when it comes to their rights to choose and work accordingly in the chosen field. They are equally talented as the male artists there hence, this. 
I would like to make a special mention here about Mr Rishi Bhattacharya (Co-owner of DK Leather, Kolkata) who on my request made every effort to find, convince & employ these Women Karigars. Because of Covid-19, I couldn't travel to Kolkata to search the suitable team myself; however, Rishi supported my vision and did the needful. This is why I give his example as a perfect 'He For She'! Not only this, but he also understood my challenge of limited funds and did the handbags production for as less as 10 MOQ initially. Our country needs more such supportive people in one's Entrepreneurial journey! 
 


What makes your startup different from your competitors in your industry?

I always treat my competitors in the market as my Mentors. There is so much to learn from their journeys and growth graph. There is space for each, and each is unique in their own way. My brand has chosen Indian art forms which I feel would gather more love across the globe as compared to others.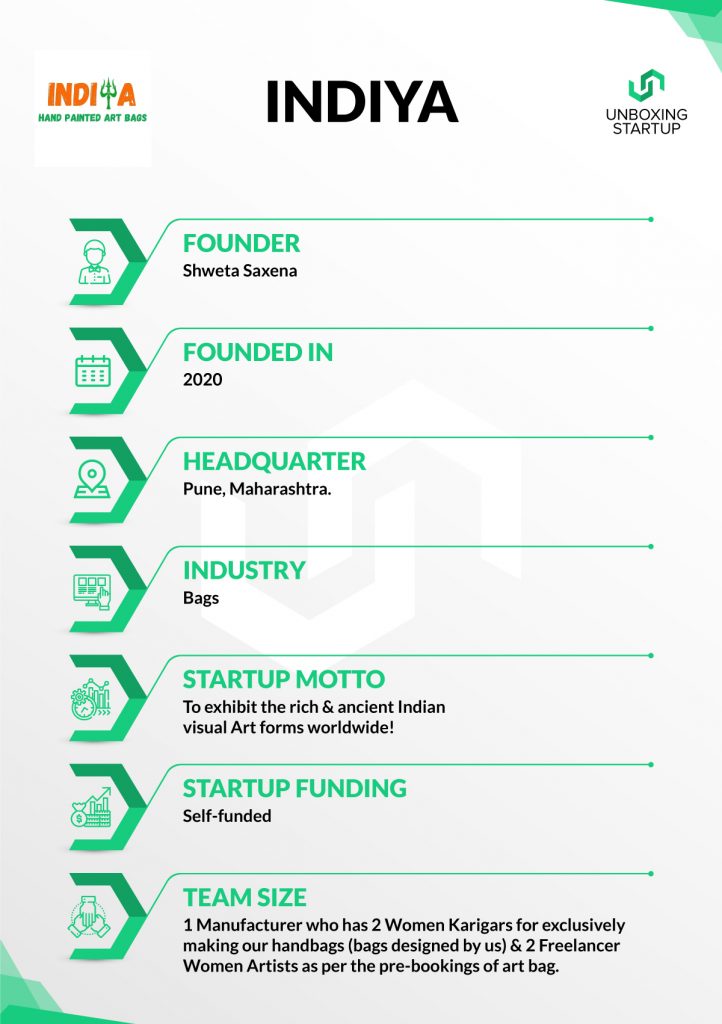 What are Indiya Art Bags future plans? And where do you want to be?
We definitely want to spread our wings into the international market and become the global identity of Indian art bags. For now, we are into the handbags for Women, soon will be moving to the men's/unisex art bags & art accessories as well.

Could you please tell us, where are you currently serving? Any expansion plans?
Currently, we are based in Pune, Maharashtra. Soon, we will be visible in the various metro cities of the country and spreading more love & pride about our ancient art forms.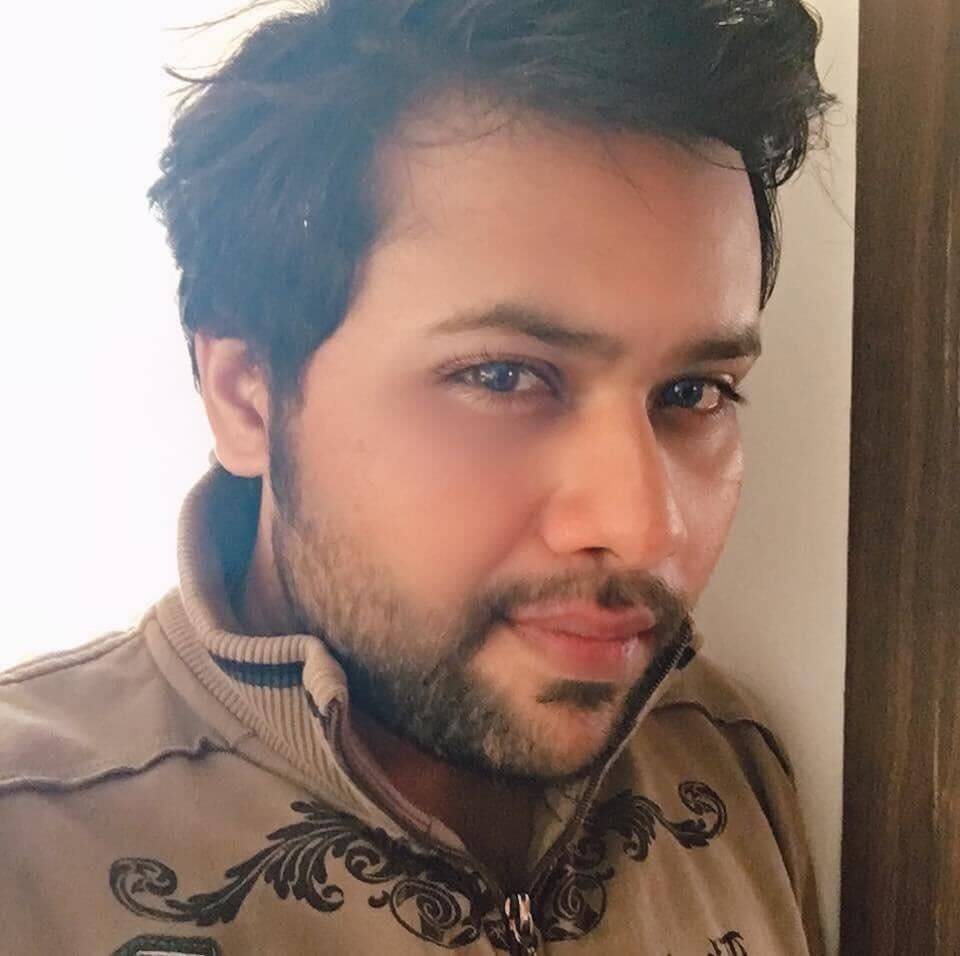 Suprotik Sinha is the Content Writer with Synkrama Technologies. He writes about technologies and startups in the global enterprise space. An animal lover, Suprotik, is a postgraduate from Symbiosis Institute of Mass Communication (SIMC) Pune. He carries 6+ years of experience in Content Writing, and he also worked in mainstream broadcast media, where he worked as a Journalist with Ibn7 ( now known as News18 India) and Zee Media in Mumbai.
Get Updates To Your Inbox
Twitter feed is not available at the moment.