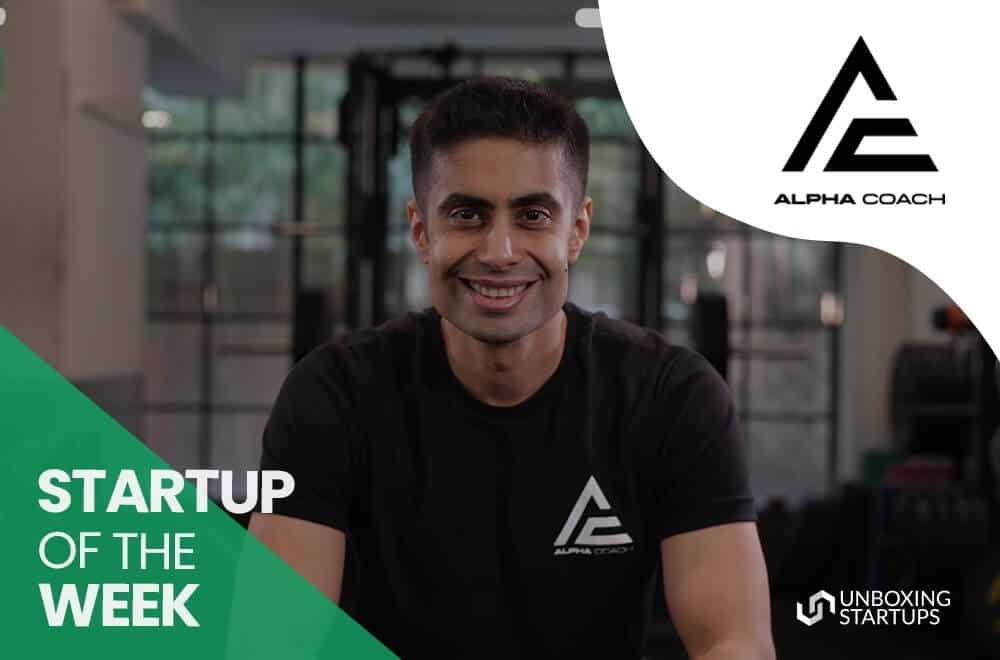 Startup Of The Week – Alpha Coach
Reading Time:
4
minutes
Name of the startup – Alpha Coach
Founded in – 2020
Industry – Health & Fitness
Founder & CEO – Ketan Mavinkurve
CoFounder & Product Head  – Vishnu Venugopal
Startup Motto – Go Beyond Fit
Startup Funding – $1,03,074 (Bootstrapped)
Team Size – 6
---
Below is the transcript of our interview with Alpha Coach
Could you please tell us about Alpha Coach to our readers, and what it is all about?
Alpha Coach is a Technology & Data-Driven Online Personal Training Program.
Most people waste time and money struggling to lose weight due to lack of clarity and misleading information, leaving them frustrated and lost. At Alpha Coach, we help busy individuals adopt and maintain a healthy lifestyle by building sustainable lifelong habits to lose weight, get strong, and be in the best shape of their lives.
Head over to their website (www.alphacoach.app) to "Take The Test" and also Apply for their Coaching.
Once your application is approved, they build your plans and get you started – it has never been easier to get you feeling better, fitter, and stronger – both physically and mentally!
What is an Online Personal Training Program? How coach co-ordinates with users? And what is the use of Artificial Intelligence in your program?
Online Training involves creating a custom nutrition and training program design to fit your lifestyle, fitness levels, access to a gym, and work towards your individual goals. Each plan is crafted especially for every individual person.  
It is online and has not any limits geographically.
As we know there are many startups in the fitness sector, so what are your challenges during the initial days you faced? And how did you push through? What motivated you?
There are 100s of fitness companies and thousands of trainers.
Most people are still struggling to get the results they want since they take care of their program's most essential part – their daily habits. We have built a coaching program to do just that – we first help clients build key habits and then help them lose weight, get strong, and get into the best shape of their lives.  
Through this journey, clients will be able to unravel benefits that GO BEYOND just physical results but also be able to transform their relationships, their career, and their minds.
Clients can expect to:
Improve strength, build stamina, get in shape

Workouts that make you feel good and diets that are not overly restrictive

Goal- specific one to one coaching with progress tracking

Build healthy habits that are sustainable and maintainable

Accountability and Guidance at every step from your coach

World-class coaching that is affordable and inclusive
Could you tell us about Alpha Coach App? Is it available on both iOS and Android? And are there any subscription charges? If yes, then how much cost a person have to pay?
The app is in the beta stage and developed for both iOS and Android – however, it is not in the stores yet – we provide the app links to the clients directly via email.

Before establishing the company, what were your vision and mission? And could you please tell us about Ping Chat Messenger? And how a coach calculates the user's calories? 
Our vision is to be able to transform and positively impact the health and fitness of 100 million people globally.
We know that people do not want to be on a permanent "diet" for the rest of their lives!  In order to achieve that you need not just lose fat but learn to keep it off as well. We believe everyone has the right to have the energy and the physique that they've dreamt of, and no one should ever be deprived of optimal health. We understand it's difficult and sometimes confusing, and that's why we have built Alpha Coach – an Online Personal Training Program that's designed to be simple to follow, flexible, cost-effective, and purely results-focused!
The PING! Messenger is a proprietary chat that is built right into the app itself – it allows the coach & client to interact quickly, and share media (photos, video & audio files) with each other.
Our expert & certified coaches use nutrition science and training best practices to prepare nutrition planning (calories, meal plans, etc) and build targeted training programs for their clients.
What have you failed at? And how you recover from that phase?
We failed at doing a great 1st retail product at the time we wanted to – but realized that the product is better launched when ready and perfected, rather than rushing through it. We instead pivoted towards doing more corporate group coaching, and now building a far more advanced futuristic & scalable product.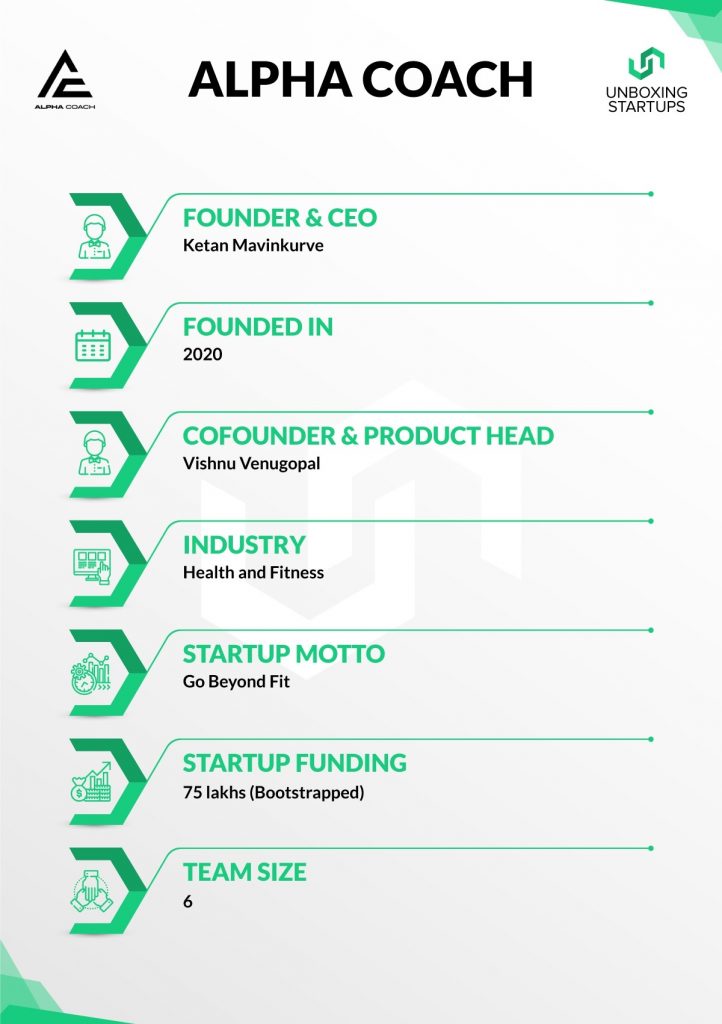 What are Alpha Coach's future plans? And where do you want to be?
Both external and internal factors measure growth at Alpha Coach – the growth in the number of people who have positively accepted and using our program is a great external measure of growth.  But we also look internally towards how we are growing as a team, the impact we are able to make, how our product evolves to become more scalable and help a larger population.
Alpha Coach in 5 years will be a platform that will be globally present. We are working towards automating the platform to such a degree that it will help clients worldwide access the best fitness programs regardless of their location, fitness levels, and meal preferences.
Any advice to young entrepreneurs?
Find a problem (that's large enough), figure a unique method that can effectively solve this problem better than anybody else, go hard, build that product/service, and make it a reality! 
Don't do start-ups for the money; it will never succeed.
Could you describe yourself in one word?
RELENTLESS!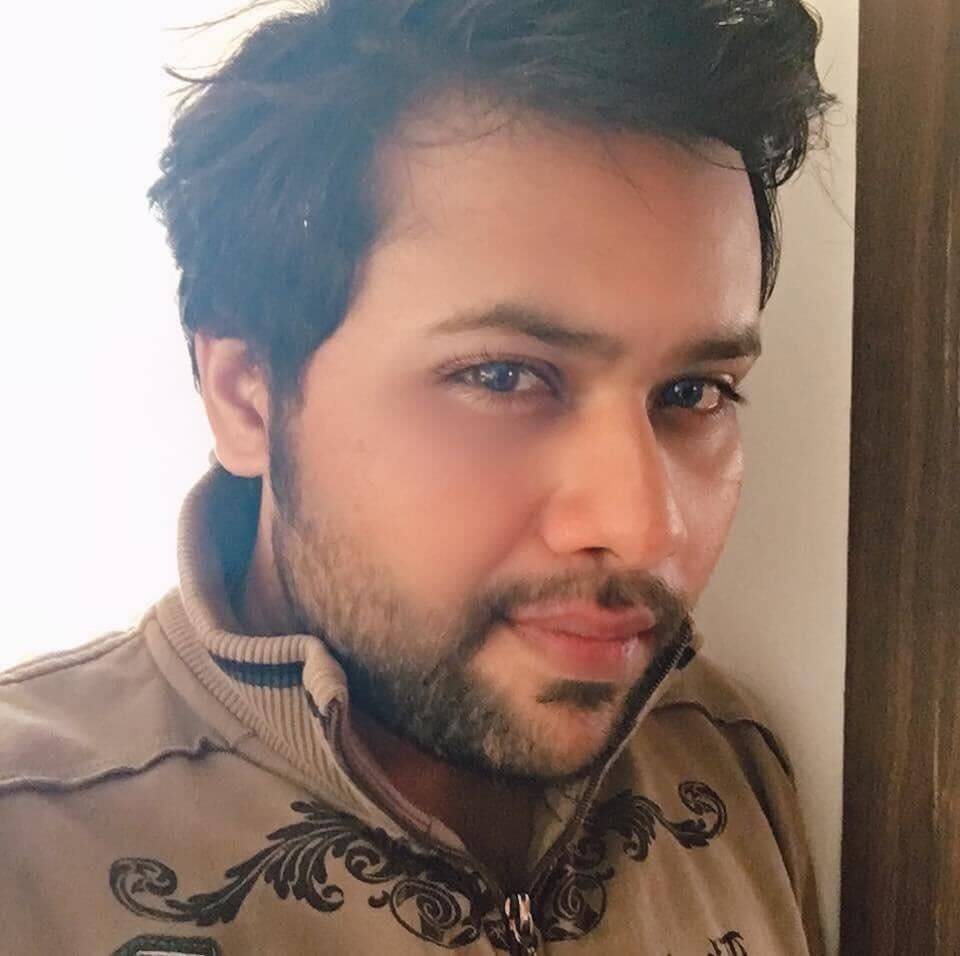 Suprotik Sinha is the Content Writer with Synkrama Technologies. He writes about technologies and startups in the global enterprise space. An animal lover, Suprotik, is a postgraduate from Symbiosis Institute of Mass Communication (SIMC) Pune. He carries 6+ years of experience in Content Writing, and he also worked in mainstream broadcast media, where he worked as a Journalist with Ibn7 ( now known as News18 India) and Zee Media in Mumbai.
Get Updates To Your Inbox
Twitter feed is not available at the moment.