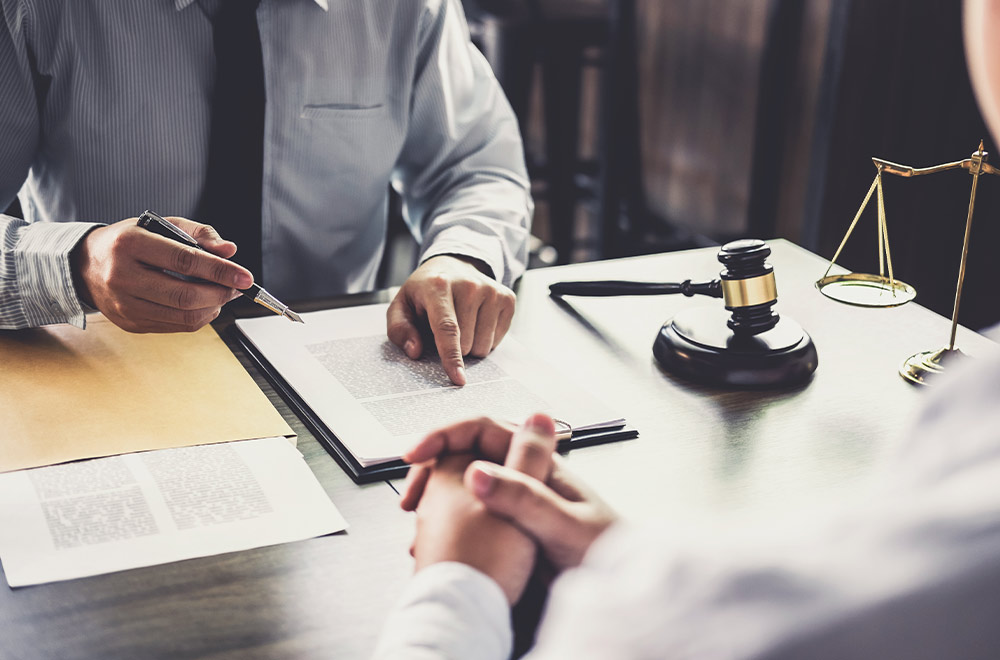 Top 8 Legal Documents Every Startup Should Have
Entrepreneurs/founders are known to gamble with calculated risks as a recipe to success. For them, every day is a risk-taking- make or break situation. Startups are a battleground for entrepreneurs to showcase their bubbling skills and risk-taking capabilities to the world. But one should ensure that they don't end up in legal soup by missing out on any of the critical legal documents for startups required by every new business. Overall no one wants to get engaged in legal matters. 
It has been observed that during the initial days, entrepreneurs make a lot of mistakes. Whereas, it is interesting to dig the imaginative ideas with the expectation of hope turning into reality.
Welcome back, readers. Today, a new day and a new topic. For the past few days, we are researching more upcoming blog ideas and collecting information. Therefore, we decided to make things easier by delivering legal information for entrepreneurs who don't know much about legal formalities and are unsure how to begin. Therefore we decided to cover the legal structure (legal documents for startups) every startup requires and should be done in the initial phase.
Below, we've outlined the core eight legal documents for startups that founders need to put into place to avoid costly legal battles down the road.
1. Articles of Incorporation
A common mistake startup founders make is failing to put an adequate business structure in place. Putting up only a sole proprietorship can result in high-income tax bills and legal liabilities for which entrepreneurs are directly responsible. By not filing the Internal Revenue Service (IRS) to form a distinct legal entity for their business, there might be a chance where founders risk losing their savings and, in some exceptional cases, their homes or land.
All options have their pros and cons. For the most general part, startups with multiple shareholders should form a C corporation. Businesses that want less tax obligations and want to avoid heftier fees during early growth should consider creating a limited liability company (LLC).
2. Intellectual Property Assignment Agreement
Many startups are formed on intellectual property and high hopes. The intellectual property might be software copyright or a pending patent for a new device. Without an intellectual property assignment agreement, the company may not own the intellectual property.
For example, suppose one of your founders created software before your company was established. In that case, he/she owns the copyright to that software unless there is a written assignment agreement transferring the copyright to your startup.
The same is true of independent contractors who create intellectual property for you. This can cause significant problems if the entrepreneur withdraws from the company. The contractor refuses to assign the copyright, or outside investors ask for evidence that the startup owns its intellectual property.
Entrepreneurs, employees, and independent contractors should sign intellectual property assignment agreements at the outset to guarantee that your startup owns its intellectual property assets and prevents any challenges later.
3. Nondisclosure Agreements
A nondisclosure agreement, also known as an "NDA", protects your startup's confidential and private information. An NDA explains what type of information or details is considered confidential, and it also describes how the data can be used or disclosed to others. NDAs are critical to protecting any company information that you don't want to be released to the public, including product information, financial data, and sales and marketing plans.
NDAs must be only signed by those who have permission to access confidential information, including employees, independent contractors, vendors, potential investors, and many others. A nondisclosure agreement protects all your crucial information against competitors who might steal or copy your product or use the information in their product to gain a competitive edge.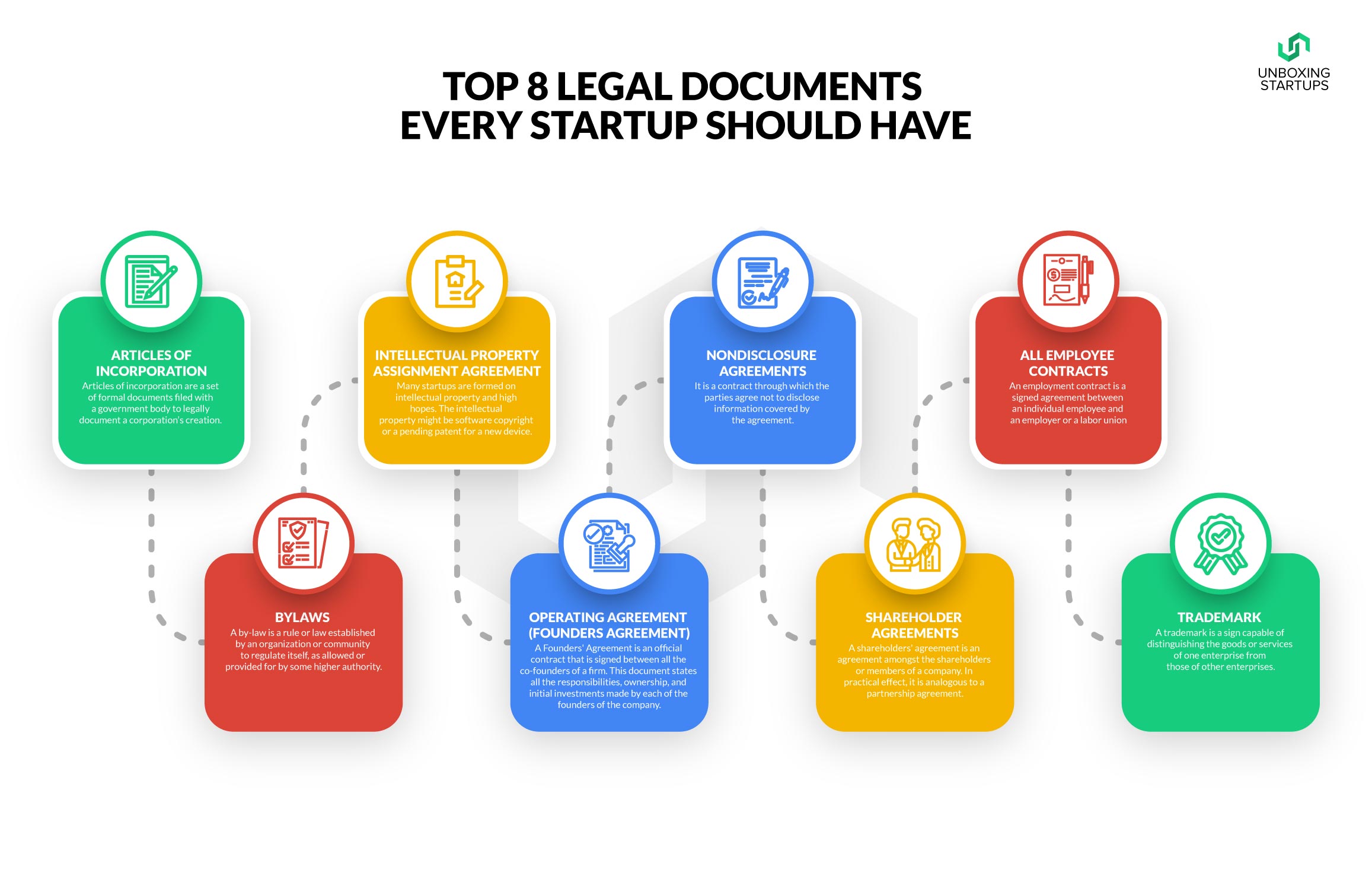 4. All Employee Contracts
Generally, in most states, employees are "at-will" and can leave their job at any time unless an employment contract (Contractual job) obligates them. Employees in a startup who are critical to the company's early success may want to put employment contracts in place to ensure that they have the company for a specified amount mentioned in the contract.
Employees might need to sign other contracts that include NDAs, intellectual property assignments, and non-compete agreements.
If an employee will be remunerated with stock in the startup, an agreement specifies how that compensation will be calculated and paid.
If you use independent contractors (freelancers), have them sign a separate contractual agreement that specifies that relationship's terms.
Starting a new business is not an easy task; you spend hours of hard work, and it can seem like you don't get enough time left by the end of the day to get things all done.
But by managing time and taking out a few hours, and paying attention to your legal startup documents as you establish your business, you can protect your investment and prevent a lot of upcoming troubles down the road.
5. Bylaws 
Every startup wants a particular set of working guidelines or ideas that govern that area. Bylaws should establish the company's internal rules like settling disputes, selecting leadership, and determining shareholders' rights and powers. Bylaws can embrace, however, usually are not restricted to voting rights to pick management, the election of board members, or taking approvals and different inside functions of the organization.
6. Operating Agreement (Founders Agreement)
To avoid any conflict among the founding parties, all co-founders should sign a comprehensive operating agreement. The agreement should define the founders' relationship, including the expectation that all work will belong to some entity present and in the future- outline a necessary communication and conflict-resolution clause to help prevent disputes.
7. Shareholder agreements 
Once your startup is ready to take one on one with private investments, a Shareholder's Agreement needs to be put in place to determine these shareholders' rights and their ability to exercise these rights. Like spousal support after remarriage, these agreements are incredibly important as they define the relationship between a company's shareholders and are invaluable if a co-founder decides to leave.
8. Trademark 
Trademark registration and reputation may help strengthen your model, which is sweet. The drawback is that while you register with the trademark workplace, everybody with an identical structure is alerted and starts to make an objection. Therefore, chances are you'll discover that all of a sudden, individuals who wouldn't have in any other case have been focused on what you might be doing, begin being attentive to explicit trademarks. 
Final Wrap Up 
While the above legal documents mentioned are no sure shot recipe to success in your startups, these documents are somehow foolproof, taking your startup to new heights with proper legal advice. Therefore it becomes important to put some effort into getting the legal formalities out of the way for a company's brighter future.
While time is a precious asset for any startup, founders should prioritize putting these agreements into place to secure their company's future. 
Get Updates To Your Inbox
Corefactors has seen struggles in maintaining leads for a business, tracking the team's progress, and accessing reports in a conventional excel sheet. While all of this led to the inefficiency of the business functioning, it also added the difficulty of juggling between various platforms. Intending to shove away the roadblocks in the way of business sales, marketing, and communication, Corefactors understood the gap. That's how Teleduce emerged into the business as an " Integrated CRM to empower marketing, sales, and support teams with inbuilt cloud telephony."