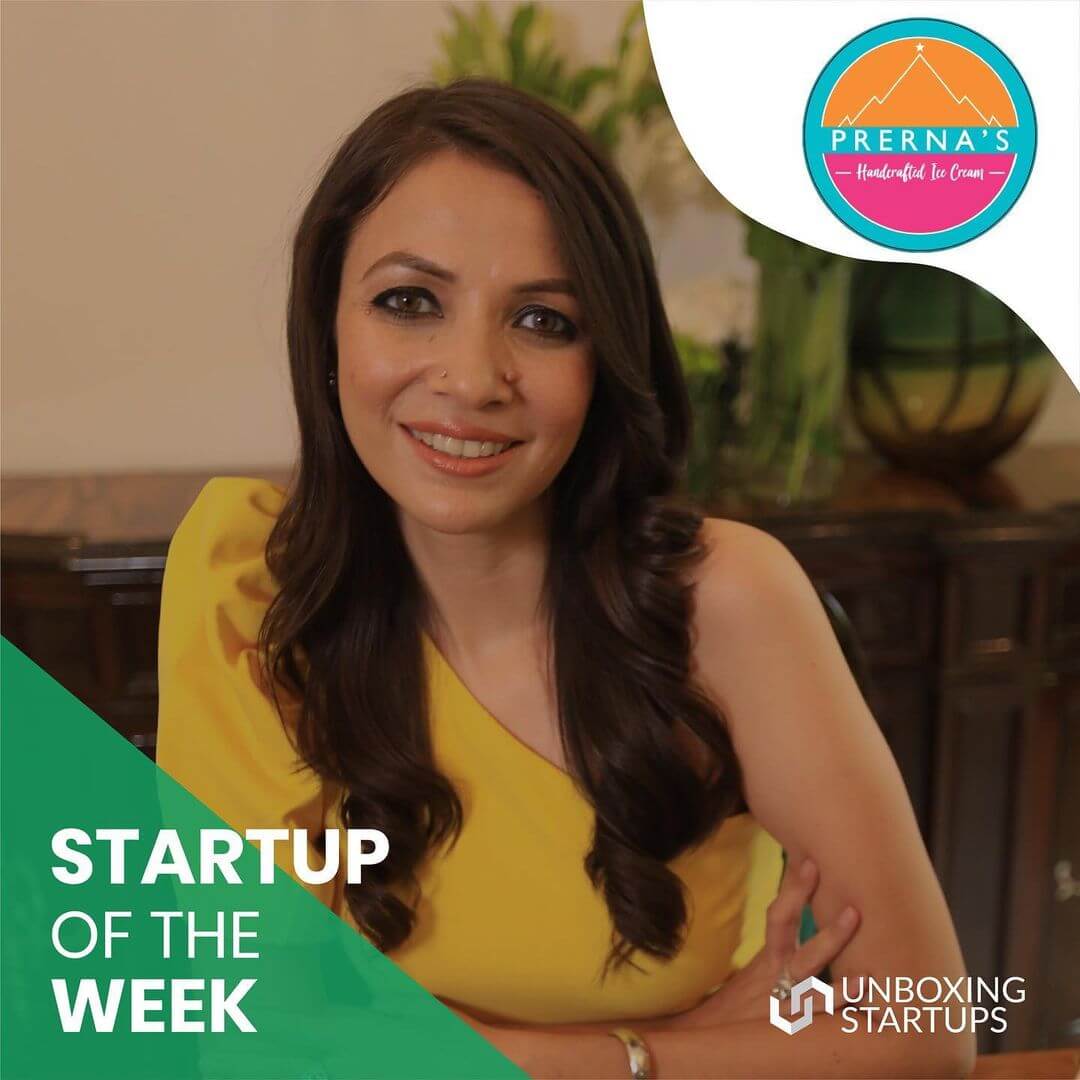 Startup Of The Week – Prerna's Ice Cream
Reading Time:
3
minutes
Name of the startup – Prerna's Ice Cream
Founded in – June 2020
Industry – Ice Cream
Founder – Prerna Puri
CEO – Prerna Puri
Startup Motto – To make ice creams without any stabilizers, emulsifiers, preservatives, artificial flavors or colors.
Startup Funding – 40 lakhs
Team Size – 20 people
Below is the transcript of our interview with Prerna's ice Cream
Could you please tell us about Prerna's Ice cream?
Prerna's Handcrafted Ice Cream has introduced India's first gluten-free dairy ice creams that are prepared with low-fat cream (no milk at all) and have no stabilizers, no emulsifiers, no preservatives, no artificial flavours, no artificial colours or thickeners added to them. Our ice creams are pure, all-natural, and 100% vegetarian. Devoid of any artificial additives, our brand is paving the way for revolutionary ice creams packed with a healthy punch.
How do you come up with the idea of all-natural ice cream?
Being a cautious mother, I was discomforted by the thought of buying ice cream for my son from local vendors during the lockdown. I realized that most commercial ice creams contain a lot of harmful artificial additives and preservatives. I wanted to come up with a safer alternative.
So I began producing ice creams in my home kitchen using all-natural, pure, and premium ingredients. My ice creams are now shared with everyone who, like me, want to give their loved ones a trustworthy and honest product of love.
What are your challenges during the initial days you faced? And how did you push through?
Being a lockdown initiative, our company initially had to face many challenges. Procuring things like packaging and raw material was very tough. Marketing and hiring a sales team during these times was equally challenging. As our ice creams are unlike any in the industry, customizing machinery to our specific requirement was a feat in itself. However, our dedication and perseverance paid off and today our brand is on its way to becoming a pioneer in creating ice creams that are not just tasty, but full of wholesome goodness that everyone can enjoy.
What methods you follow while making the ice cream, and what is the source of raw materials you use in your ice cream?
Prerna's Handcrafted Ice Creams are prepared from all-natural, pure, and premium ingredients.
The finest quality of dry fruit is used for ice creams. We also use the best quality of Ratnagiri Alphonso for our Pure Mango ice cream and strawberries from Mahabaleshwar for our Pure Strawberry ice cream.
What makes your startup different from your competitors in your industry?
Over the years, ice creams have become frozen desserts as they are made of milk powder/solids, vegetable oil/butter, cornflour/all-purpose flour, and have added preservatives, stabilizers, and/or emulsifiers to achieve the right texture and to increase their shelf life. The honest art of making pure, unadulterated ice cream has been lost due to commercialization. Our brand strives to change this by making ice creams with low-fat cream ( not milk) and not a single additive of any kind. This is a revolutionary technique for making pure ice creams. Our company is out to prove that the right texture and taste can be achieved even with the simplest of ingredients and a loving hand.
For our brand, health and honesty are paramount.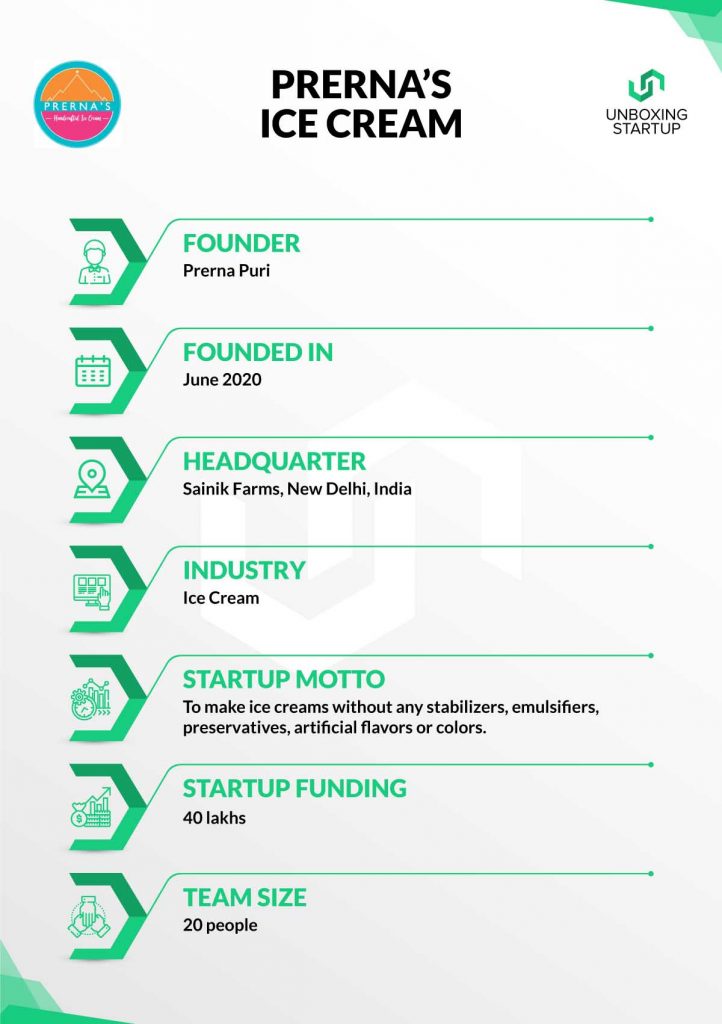 What are Prerna's Ice cream's future plans? And where do you want to be?
A self-funded venture, our company started off with just 25 premium stores pan-India. Going forward, we aim to extend our operations to 250-300 stores.
Our mission is to grow via two channels – firstly, expand our presence in premium stores across the country. Secondly, enter into tie-ups with franchisees for a pan-India presence.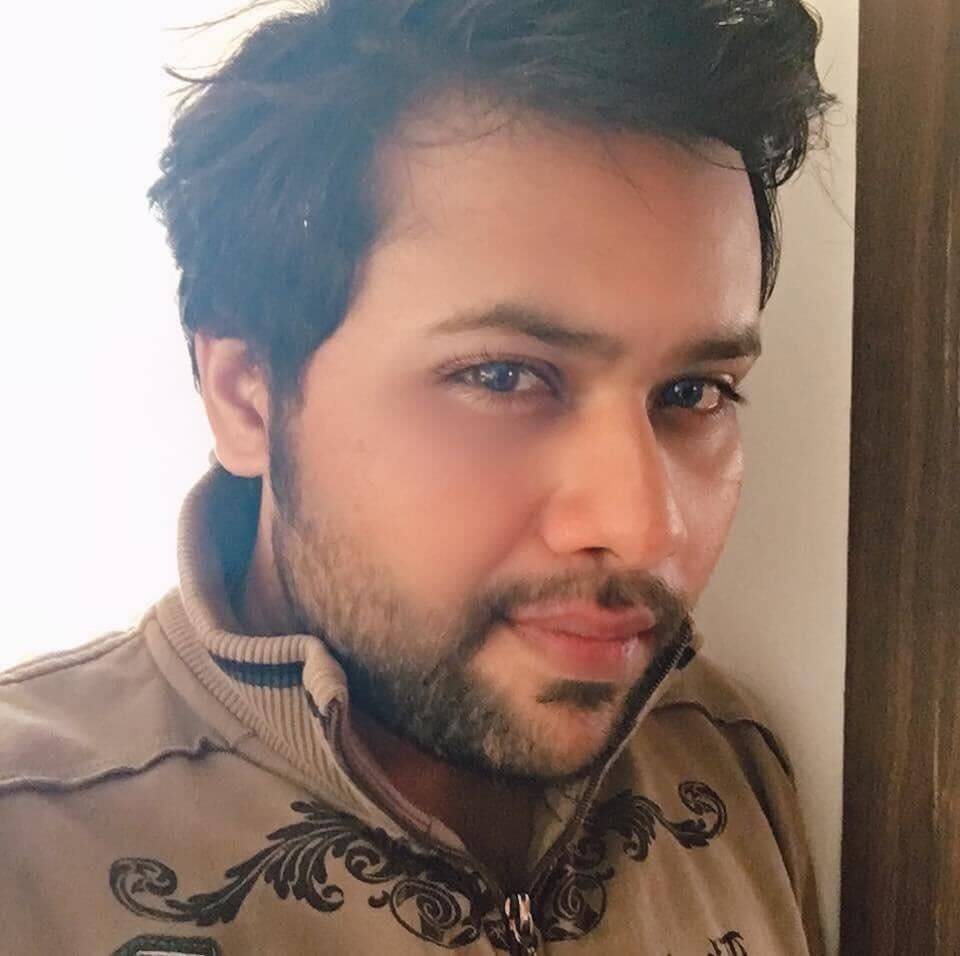 Suprotik Sinha is the Content Writer with Synkrama Technologies. He writes about technologies and startups in the global enterprise space. An animal lover, Suprotik, is a postgraduate from Symbiosis Institute of Mass Communication (SIMC) Pune. He carries 6+ years of experience in Content Writing, and he also worked in mainstream broadcast media, where he worked as a Journalist with Ibn7 ( now known as News18 India) and Zee Media in Mumbai.
Get Updates To Your Inbox
Twitter feed is not available at the moment.